Earlobe Repair Surgery
The plastic surgeons at Sound Plastic Surgery are recognized as experts in stretched ("gauged") and torn earlobe repair. Our plastic surgeons have restored the shape and contour of stretched, gauged and torn earlobes for many Seattle and Portland area patients.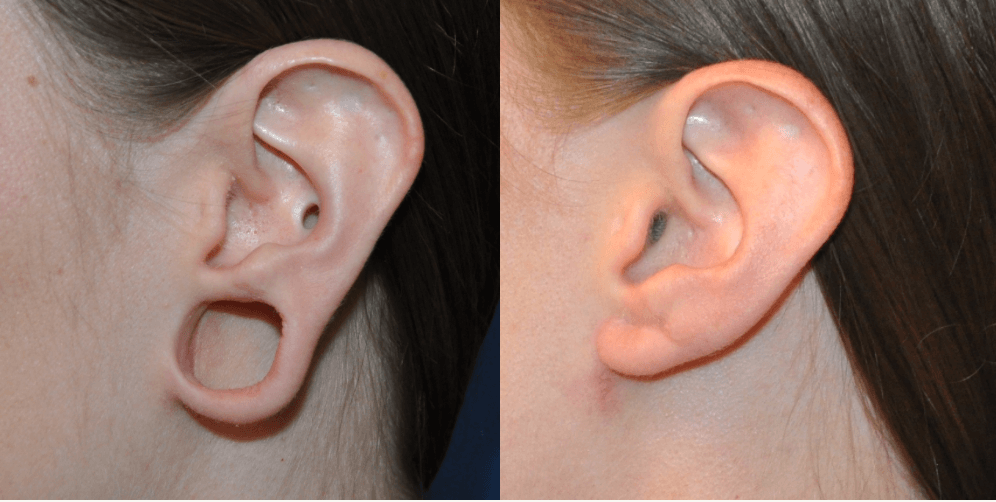 Our earlobe repair surgery can be completed in our clinic procedure room under local anesthesia in under an hour. We use a local anesthetic ear block technique to render the ear completely numb for a painless repair. Sutures are removed from the earlobe 5-6 days after surgery. Individual results will vary, however earlobes can usually be re-pierced with a standard post 4-6 weeks after repair. The plastic surgeons at Sound Plastic Surgery have experience repairing multiple types of earlobe and piercing related issues.
Gauged or stretched earlobes
Gauged and torn earlobes
Stretched earlobes from standard ear piercings
Torn earlobes from standard earrings
Conversion of attached earlobes to unattached earlobes
Lip piercings and gauged lip repairs
Repair of lip piercings
Scar revision from piercing or gauging
Removal of dermal piercings
A short video of a gauged earlobe repair under local anesthesia at Sound Plastic Surgery
We have had numerous referrals and several patients from local Seattle area tattoo and piercing shops. These cosmetic earlobe repair procedures are not covered by medical insurance.
At Sound Plastic Surgery, our goal for every patient is an excellent clinic experience and cosmetic outcome.
Our Seattle area patients have given us rave reviews for our earlobe repair results.