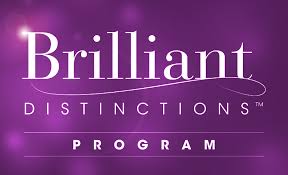 Brilliant Distinctions
Earn Rewards and Save Money!
Brilliant Distinctions Program is the only program that rewards you with points to redeem toward instant savings on Allergan facial aesthetic treatments and products, such as:
BOTOX
JUVÉDERM XC
VOLUMA XC
LATISSE
Brilliant Distinctions Program Features
Allows you to earn points with each Botox, Juvederm XC, and/or Voluma treatment, as well as every Latisse purchase.
Earn Points on every purchase at the Brilliant Distinctions Mall. There are a variety of retailers that are affiliated with the "shop and earn" online program, such as Target, Victoria's Secret, Best Buy, Pier One, Office Depot, and Lowe's.
The more you participate in the program, the greater the rewards! You have an opportunity to earn bonus points.
Manage your account activity online or via the BD mobile app.
As a Brilliant Distinctions member, you'll receive a monthly eNewsletter full of all the information you need including special offers, ideas and articles.
How do I register for the program?
Simply visit the Brilliant Distinctions website www.brilliantdistinctionsprogram.com and follow the instructions to register. Our staff at Sound Plastic Surgery can assist you in enrolling in this program.
What do I have to do to earn points?
To begin earning points with each Botox, Juvederm XC,
Voluma, and Latisse purchases, simply register on the Brilliant Distinctions website. Once you are registered, notify our staff that you are a participant. We will then bank your points each time you have a treatment in our office.
How do I get a coupon?
Prior to coming to our office, log onto the Brilliant Distinctions website and choose "Redeem Points". You will see how many points you have available and you will be prompted to select the number of points you would like to use at that time. After you make your selection, click "Create Coupon". Record the coupon number, or print your coupon. We will then deduct your coupon amount from your balance. It is important that you bring the coupon, or coupon code, with you, as we cannot redeem your points without it.
Do I have to do anything after the treatment?
No. Points will be automatically deposited in your account within 24 hours.
Do the points expire?
Points will expire 6 months from the date issued.
Earn & Save:
100 Points = $10
200 Points = $20
300 Points = $30
400 Points = $40
500 Points = $50
600 Points = $60
700 Points = $70
800 Points = $80