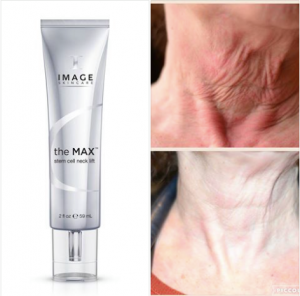 Did you know the skin on your neck needs the same type of care and attention as the skin on your face? Most of us invest all our time, and products, into pampering our faces, only to have our necks give away our real age.
The MAX Stem Cell Neck Lift Creme targets sagging and lax skin, deep creases, wrinkles and fine lines on the neck. This crème contains the maximum concentration of innovative peptides combined with plant derived stem cell technology that helps increase elasticity, brightens, tightens, and defines the neck and jawline.
After 6 weeks, studies show a 100% improvement in skin hydration, a 90% improvement in skin firmness, and a 76% improvement in skin elasticity.
Call Sound Plastic Surgery TODAY for a complimentary skincare consultation with our Master Aesthetician, Erin Keane!