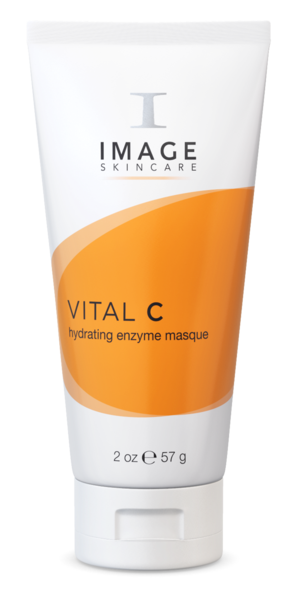 Spotlight Product:
Image Skincare Vital C Hydrating Enzyme Masque and Why We Love It
Vital C by Image Skincare has many benefits; such as increasing collagen production and replacing damaged skin tissue to heal scars. This product line is high in anti-oxidants for ultimate protection and nutrition.
One favorite from the Vital C line is the Vital C Hydrating Enzyme Masque. This masque gently removes dead skin cells with enzymes, while infusing the skin with vitamins, minerals, moisture, and antioxidants to improve the overall health and appearance of your skin.
Working on multiple levels with various powerfully effective ingredients, Vital C Hydrating Enzyme Masque softens skin texture, brightens skin color, and minimizes the appearance of fine lines and wrinkles while preventing the environmental damage that causes new ones. Soothing and relaxing enzymes will massage away the years as they exfoliate.
Recommended Skin Types
The Vital C Hydrating Enzyme Masque works great on all skin types. It is especially effective on sensitive skin, oily skin, acne-prone skin, aging skin, rosacea, dryness and dehydration, and post-treatment skin.
Benefits
Removes dead skin cells and gently sloughs dead skin buildup to reveal the youngest, freshest skin
Infuses skin with vitamins and antioxidants to prevent environmental damage that causes aging
Injects the skin with vitamins and minerals to improve skin health
Provides long-lasting hydration that lasts for hours
How to Apply
Apply to cleansed skin, and leave on for 3 minutes to a half-hour. When the time is up, rinse with cool water and pat dry.
Use up to three times per week to hydrate and exfoliate.
For added exfoliation benefits, try with the Image Skincare Ageless Total Resurfacing Masque.