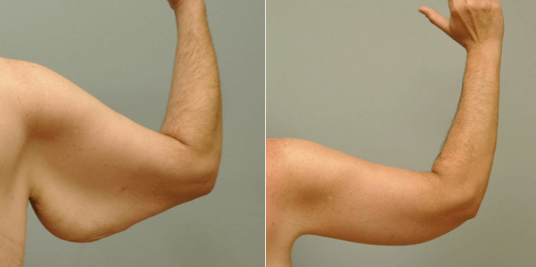 This surgical procedure reduces the excess sagging skin of the upper arms, by tightening and smoothing the arm contour. Natural aging, fluctuations in weight and heredity may impact the appearance of your upper arms. Most commonly, our plastic surgeons see patients who dislike the appearance of their arms after massive weight loss.
Good candidates for arm lifts tend to be adults with a significant amount of upper arm skin laxity. This procedure will reshape the upper arm by tightening the skin and remove fat that creates that "bat wing" appearance of the arms. During the procedure an incision is made along the length of the arm from the armpit, or axilla, to just above the elbow. The length and pattern of the incision is dependent on the amount and location of excess skin that is to be removed. Then, with internal sutures, the supportive tissues are tightened and reshaped. Finally, the remaining skin is smoothed over the new contour of your arm.
The smoother, tighter contours of the arm are apparent almost immediately following your procedure. The majority of swelling and mild bruising will resolve within a month. Most patients return to work and normal activities by 7-10 days.
Please call TODAY to discuss with one of our Board Certified Plastic Surgeons if a Brachioplasty or Arm Lift is right for you!
(206) 729-2248